hl organic skin care is ranked as a top
Hair Removal in san francisco california
Verified by
Yocale.com
NEW 2018 Eminence
The 3 Best Ingredients To Shrink Large Pores!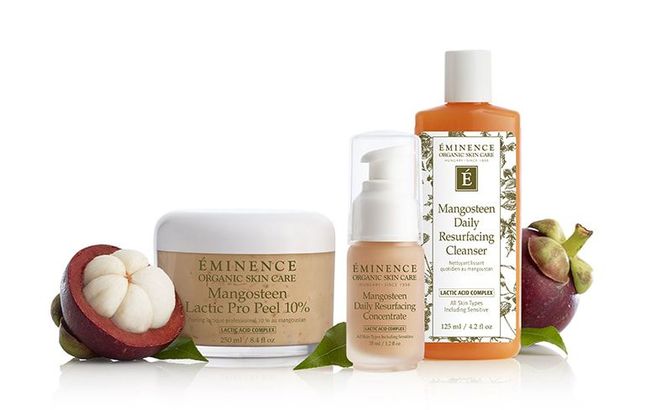 APRIL 13, 2018
Written By:
Jen Wynn
​
It's no secret that having high definition smooth and luminous skin is something everyone is after
. But how do you keep your complexion looking flawless at all times? The key to an airbrushed finish is to minimize pores - and
Eminence Organics
Mangosteen Lactic Collection
is your new best friend when it comes to pore tightening. Our unique
Lactic Acid Complex
is in each product in the Mangosteen Lactic Collection and contains three superstar ingredients to give you the #nofilter glow of your dreams - without layer upon layer of cosmetics. Keep reading to learn about the three best ingredients to shrink large pores.
1. Gently Exfoliate With Lactic Acid
The first step to minimizing pores is exfoliation. For the best pore minimizing results,
regular exfoliation is recommended to loosen dead skin cells
(
How Stuff Works)
. Keeping your pores clean and free of debris will ensure they do not expand further. Dead skin cells tend to build up around pores, causing this common problem known as
mechanical dilation
. Alpha hydroxy acids (AHAs)
are excellent chemical exfoliants
which loosen the "glue" that holds dead skin cells on to the skin's surface and help solve the problem. Lactic Acid is an AHA gentle enough for daily use - even for the most sensitive skin - and is more hydrating than other AHAs.
2. Tighten Pores With Red Clover Flower Extract
To help prevent mechanical dilation of large pores, Red Clover Flower Extract - the second ingredient in our Lactic Acid Complex - works to correct three main causes of enlarged pores:
dead skin cell buildup, excessive sebum production and loss of elasticity
(
Livestrong
). Red Clover Flower helps by eliminating debris around the pore opening. Paired with Lactic Acid, these two ingredients help treat and prevent the mechanical dilation that causes large pores.
By default, if you have oily skin, you probably have larger pores to facilitate the distribution of sebum. Red Clover Flower works to reduce oily skin, minimizing the appearance of large pore openings. Lastly, it's no secret that
skin begins to sag as we age
, but did you know that loss of elasticity extends to your pore walls as well? Red Clover Flower helps to increase pore contraction, restoring the poreless look of skin we have in youth.
​
3. Smooth Skin With Ribose
To further smooth skin, Ribose works to
visibly increase the look of skin elasticity and firmness
. The result is a natural airbrushed finish without pore-clogging silicone or makeup (
National Center for Biotechnology Information
). The Ribose used in the Eminence Organics Lactic Acid Complex is sourced from organic corn seeds and is a natural ingredient for promoting your best, smooth skin. All three ingredients complement one another, creating balance in our Lactic Acid Complex.
---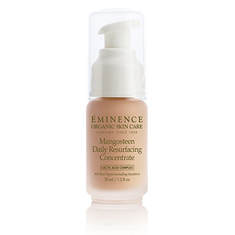 MANGOSTEEN DAILY RESURFACING CONCENTRATE
​
​Encourage skin renewal and refine pores to refresh the skin's natural appearance. The mangosteen in this leave-on concentrate nourishes and protects the skin while the Lactic Acid Complex works at the cellular level to continuously remove and prevent build-up.
​MANGOSTEEN DAILY RESURFACING CLEANSER Extend the benefits of a treatment or peel at home with a resurfacing cleanser. This milky gel lightly lathers to slough off dead skin without manual exfoliation or over-stripping. The Lactic Acid Complex and mangosteen in this cleanser work together to restore a smooth, radiant complexion.
INTRODUCING OUR NEW ROSEHIP TRIPLE C+E FIRMING OIL in January 1, 2016.ROSEHIP TRIPLE C+E FIRMING OIL: ANTI-AGING • PREVENTION • HYDRATION
Nourishing, hydrating and firming facial oil for all skin types including dry rosacea.
The Rosehip Triple C+E Firming Oil is an effective facial treatment comprised of a blend of results-oriented actives and ingredients that provide effective hydration and protection. Designed as a complementary product to the
Citrus & Kale Potent C+E Serum
, the Rosehip Triple C+E Firming Oil delivers an added hydrating boost of Vitamin C and E protection against glycation and everyday environmental stressors.
"No great home is ever completely decorated until it has its most important accessory – home fragrance." — Agraria founders Stanford Stevenson and Maurice Gibson

As interior designers, Maurice and Stanford created Agraria products as essential design elements for their clients' San Francisco homes. In addition to the Chinese bowls they filled with Bitter Orange potpourri, they grew Agraria into a full-line home fragrance and bath & body company with "decorative accessories" for every room in a home. At the same time, Agraria became "the gift" to give and receive for any holiday, occasion or celebration.

Our candle vessels are excellent examples of how we create the object to be as unique as other accessories in any home. The intricate glass patterns accentuate the movement of the flame, creating a luminous mesmerizing glow and sparkle. When not burning, the silver lid continues to add interest to the room.


Welcome to HL Organic Skin Care, Face and Waxing and Hand Airbrush Organic Tanning Solution treatments, we are selection of highly quality Organic products, the internationally regarded Eminence Organic Skin Care and cosmetic Products and modern beauty enhancing technology, are designed to relax, rejuvenate, energise, hydrate and detoxify.

With HL Organic Skin Care emphasis on ethical practices and results-oriented treatment, we are carefully chooses our products to ensure both modern and traditional practices are truly effective.

Blending premium product lines with locally-sourced, Organic and Natural ingredients, our emphasis on sustainability and natural wellness allows us to create the ultimate, authentic skin care experience for each one of our guests.

Retreat from the hustle and bustle of the city, and rediscover inner natural balance through relaxation, and calming of the mind and facial. HL Organic Skin Care's Enriching Your Life treatment journey offers guests bespoke treatments most suited to your needs, so you need only decide on the length of the treatment for a personalised experience from our of experts.


Upon arriving for your appointment, you are greeted with the utmost care. Spring water, herbal teas, and additional beverages and amenities are offered to ensure a calm and relaxing visit.


Please choose one of the services that we offer and book your appointment online or give us a call.


*** Eminence Oxygen Facial Treatment

*** Eminence Organic Facial Treatment

*** Airbrush Tanning

*** Eyelash Tinting

*** Eminence Arctic Berry Peel and Eminence Yam & Pumpkin Chemical Peel

*** Eyelash Perm

*** Hair Removal




6 Clement Street San Francisco, California 94118
Tel: 415-221-1200
Book Online: www.hlorganicskincare.com