hl organic skin care is ranked as a top
Hair Removal in san francisco california
Verified by
Yocale.com
WHAT'S NEW - MARINE FLOWER PEPTIDE COLLECTION
Available September 1st!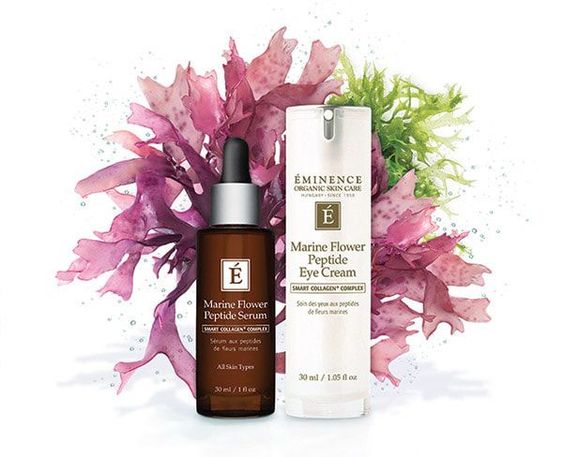 Immerse your skin in the Marine Flower Peptide Collection to reveal a more radiant, youthful-looking complexion with fewer fine lines and wrinkles. Introducing the Smart CollagenComplex, an intelligent collagen booster which uses advanced plant and algae ingredients to activate the body's own production of high quality collagen. Combined with natural, concentrated plant peptides—which give skin increased strength, elasticity and suppleness—the Marine Flower Peptide Collection is an ultra-nourishing, anti-aging powerhouse.
FEATURES:
Smart CollagenComplex doubles collagen density to visibly lift and fill wrinkles*.
Potent plant peptides are easily absorbed by the skin and dramatically improve overall tone and texture.
Globally and sustainably sourced freshwater and saltwater algae deliver a nutrient rich dose of minerals, amino acids and antioxidants to increase firmness and provide long-lasting hydration.
A cruelty-free alternative to animal derived collagen.
MARINE FLOWER PEPTIDE EYE CREAM

​
Collagen-boosting, ultra-rich eye cream for all skin types
Uniquely formulated for the delicate eye area, this ultra-rich eye cream uses collagen-boosting actives, naturally derived plant peptides and innovative algae extracts to dramatically reduce the decline in collagen that occurs naturally over time. Suitable for use day and night, this versatile eye cream provides long-lasting hydration and visibly improves the appearance of wrinkles, puffiness, and dark circles.
MARINE FLOWER PEPTIDE SERUM
Collagen-boosting serum for all skin types
This easily absorbed, potent gel serum delivers concentrated plant peptides and collagen-boosting botanicals deep into the skin to diminish the appearance of fine lines and wrinkles for visibly smoother, plumper and more youthful-looking skin. Ideal for all skin types, especially aging skin, the Smart CollagenComplex boosts the production of high quality collagen and rejuvenates the complexion while unique algae extracts increase firmness and provide long-lasting hydration.
New Bright Skin Overnight Correcting Cream!

Brighten skin with this ultra-rich moisturizer formulated to address the look of hyperpigmentation while you sleep. It delivers potent actives that visibly reduce the look of age and dark spots for a luminous complexion. In combination with a Natural Hydroquinone Alternative, these actives create our most powerful skin brightening botanical blend to date.

Visibly reduces the appearance of hyperpigmentation Revitalizes and brightens skin Protects against transepidermal water loss (TEWL) Improves moisture and hydration Eminence is constantly innovating our product formulations to deliver the best results.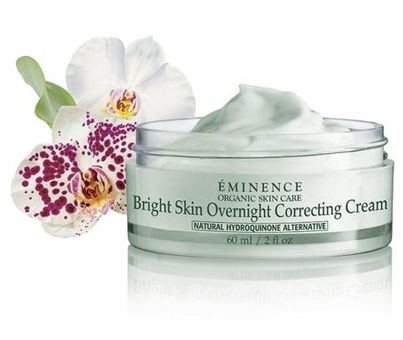 INTRODUCING OUR NEW ROSEHIP TRIPLE C+E FIRMING OIL in January 1, 2016.ROSEHIP TRIPLE C+E FIRMING OIL: ANTI-AGING • PREVENTION • HYDRATION
Nourishing, hydrating and firming facial oil for all skin types including dry rosacea.
The Rosehip Triple C+E Firming Oil is an effective facial treatment comprised of a blend of results-oriented actives and ingredients that provide effective hydration and protection. Designed as a complementary product to the
Citrus & Kale Potent C+E Serum
, the Rosehip Triple C+E Firming Oil delivers an added hydrating boost of Vitamin C and E protection against glycation and everyday environmental stressors.
Find Your Balance News

Oil Control, Hydration and Pore Refinement for Combination Skin

The Balance Collection includes a 2 in 1 masque duo and moisturizer duo treatment routine for combination skin and a multi-action cleanser suitable for all skin types. Our innovative divided jars contain two products, one is formulated for oil control of the T-Zone and the other for the dry areas of the cheeks. The lightweight 3 in 1 cleanser, toner and make-up remover rounds out this collection designed for those who desire an effective, time-saving solution for their skin concerns. With the Balance Collection, we're treating the true diversity of combination skin using all-natural and organic ingredients that only nature can produce. Nature always brings us back to balance.


"No great home is ever completely decorated until it has its most important accessory – home fragrance." — Agraria founders Stanford Stevenson and Maurice Gibson

As interior designers, Maurice and Stanford created Agraria products as essential design elements for their clients' San Francisco homes. In addition to the Chinese bowls they filled with Bitter Orange potpourri, they grew Agraria into a full-line home fragrance and bath & body company with "decorative accessories" for every room in a home. At the same time, Agraria became "the gift" to give and receive for any holiday, occasion or celebration.

Our candle vessels are excellent examples of how we create the object to be as unique as other accessories in any home. The intricate glass patterns accentuate the movement of the flame, creating a luminous mesmerizing glow and sparkle. When not burning, the silver lid continues to add interest to the room.


Nob Hill Collection
Bitter Orange, Lemon Verbena, Lavender & Rosemary,
and
Balsam
.
$175 |
SHOP NOW
---
Welcome to HL Organic Skin Care, Face and Waxing and Hand Airbrush Organic Tanning Solution treatments, we are selection of highly quality Organic products, the internationally regarded Eminence Organic Skin Care and cosmetic Products and modern beauty enhancing technology, are designed to relax, rejuvenate, energise, hydrate and detoxify.

With HL Organic Skin Care emphasis on ethical practices and results-oriented treatment, we are carefully chooses our products to ensure both modern and traditional practices are truly effective.

Blending premium product lines with locally-sourced, Organic and Natural ingredients, our emphasis on sustainability and natural wellness allows us to create the ultimate, authentic skin care experience for each one of our guests.

Retreat from the hustle and bustle of the city, and rediscover inner natural balance through relaxation, and calming of the mind and facial. HL Organic Skin Care's Enriching Your Life treatment journey offers guests bespoke treatments most suited to your needs, so you need only decide on the length of the treatment for a personalised experience from our of experts.


Upon arriving for your appointment, you are greeted with the utmost care. Spring water, herbal teas, and additional beverages and amenities are offered to ensure a calm and relaxing visit.


Please choose one of the services that we offer and book your appointment online or give us a call.


*** Eminence Oxygen Facial Treatment

*** Eminence Organic Facial Treatment

*** Airbrush Tanning

*** Eyelash Tinting

*** Eminence Arctic Berry Peel and Eminence Yam & Pumpkin Chemical Peel

*** Eyelash Perm

*** Hair Removal




6 Clement Street San Francisco, California 94118
Tel: 415-221-1200
Book Online: www.hlorganicskincare.com